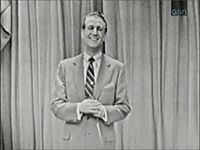 Clayton Johnson Heermance, Jr. (June 18, 1908-September 8, 1969), better known as Bud Collyer, was an American television game show host. He began his career on the radio, where he became famous as the original voice of Superman and his alter ego Clark Kent. He also voiced Superman in the 1940s cartoons. In the late 1940s, he began hosting television game shows such as Winner Take All and the original Break the Bank. Collyer achieved his greatest fame in the 1950s as the host of two long-running game shows: Beat the Clock (1950-1961) and To Tell the Truth (1956-1968). Collyer's other game show credits include the short-lived series Feather Your Nest and Number Please.
Collyer died on September 8, 1969 in Greenwich, Connecticut, the same day that To Tell the Truth relaunched in syndication with host Garry Moore.
Ad blocker interference detected!
Wikia is a free-to-use site that makes money from advertising. We have a modified experience for viewers using ad blockers

Wikia is not accessible if you've made further modifications. Remove the custom ad blocker rule(s) and the page will load as expected.