Host
Paul Costabile
Broadcast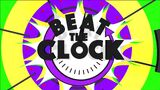 Universal Kids: 2/6/2018-present
Packager
Fremantlemedia North America
This is chronicling the new 2018 version of Beat the Clock.
Unlike previous versions, this version will have kids playing the game along with adults.
Game format
Edit
Kids will team up with adult relatives in a mad race against time filled with zany stunts & challenges. The team that fares the best will go on to try to beat The Big Clock for a grand prize.
Beat the Clock (1950–1961 Version)
Beat the Clock (1969–1974 Version)
Beat the Clock (1979–1980 Version)
Beat the Clock (2002–2003 Version)
Ad blocker interference detected!
Wikia is a free-to-use site that makes money from advertising. We have a modified experience for viewers using ad blockers

Wikia is not accessible if you've made further modifications. Remove the custom ad blocker rule(s) and the page will load as expected.